Aftermath of a Night on the Town
Author

Joe M. Young

Date Written/Revised

November 6, 2013
In the picture below you will see a green SRT Viper with black racing stripes. A week before this crash happened, my daughter Jacy said she encountered it coming down the street when she on her way home. It rounded the corner very fast and had to swerve to miss her. As these cars are not very common she remembered the green Viper. Then last Friday evening she and her boyfriend Neil went to a nearby restaurant/bar for dinner and she noticed it in the parking lot when they arrived at 5:45 pm.
When they left at 7:00, it was still in the parking lot. The next day she saw this picture with an article accompanying it that said the Viper hit this palm tree at 7:09. Nine minutes after they had seen it in the parking lot which is about six blocks from the accident site. The article went on to say that the Major Accident Investigation Team (MAIT) had checked out the accident all night and closed traffic in both directions for nearly all night. They [the MAIT) ascertained that the Viper was traveling at more than 100 miles per hour. And this is a surface street in the city of Riverside. Witnesses said it had drifted from the number two lane over towards the palm tree and just never corrected itself. The driver was 39 years old and was killed in the accident and his female passenger was in critical condition and still in a coma even after three surgeries.
Another person left a message on a blog entry which was about this accident and said she was a friend of the driver. She said she passed it going the opposite direction just before it hit this tree and that he was revving the engine. Since Jacy said it was driving recklessly not even a week before and also the fact that it was sitting in the parking lot of a popular restaurant/bar for at least two hours, we can assume that the driver was reckless to begin with and then, likely fueled by alcohol got even more reckless. Thankfully according to the police article he likely never felt a thing. Unfortunately the same cannot be said for his passenger, that is if she wakes up.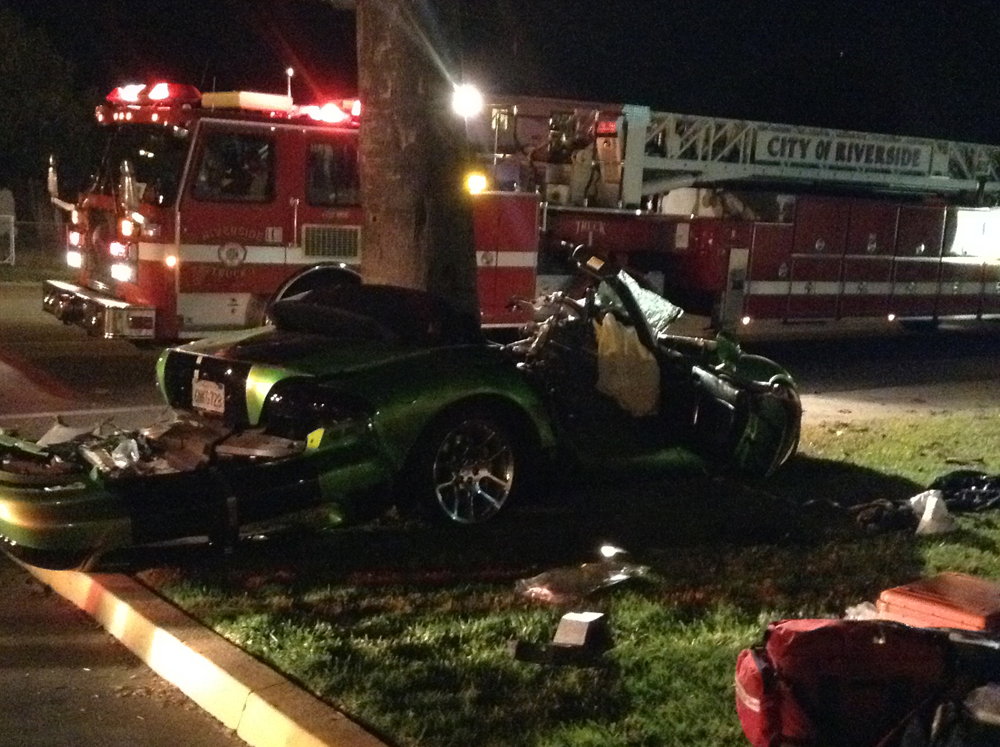 Picture of a green SRT Viper after crashing into a palm tree in front of the Riverside Transit Agency on 3rd St. in Riverside.